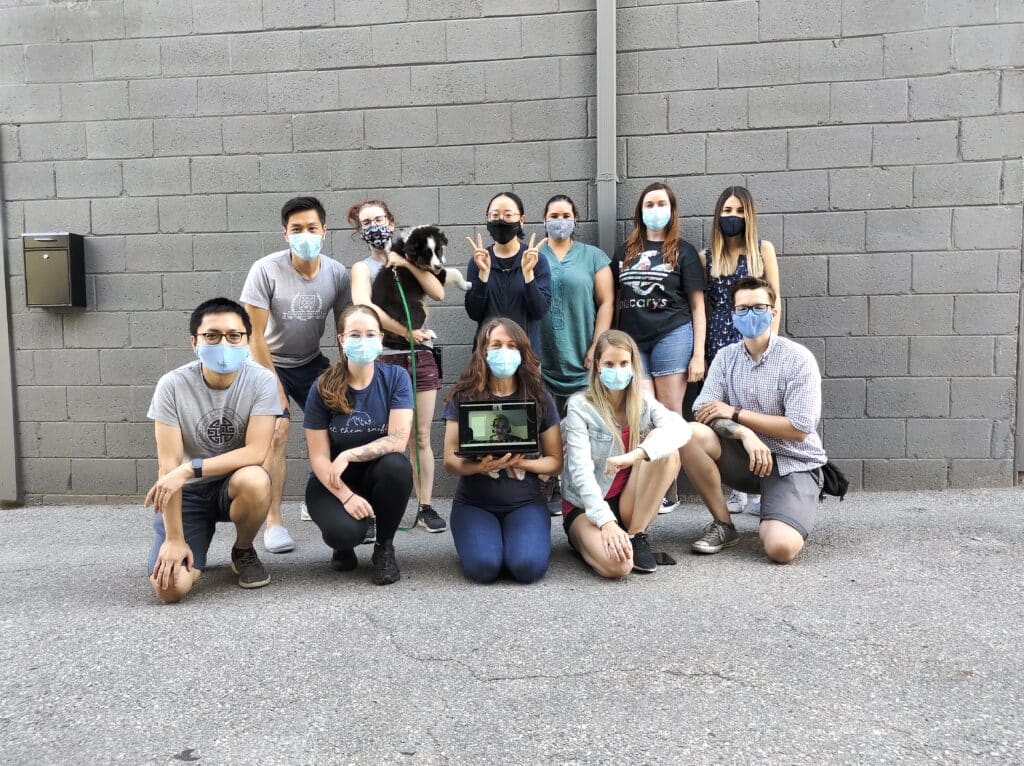 Since 2010, over 12000 dogs (and their owners!) have taken lessons with our team of talented trainers. Today, we have five dedicated facilities in Toronto and one in , a team of talented and certified instructors, and run over 60 hours of group classes per week. We are recommended by veterinarians, dog walkers, and other industry professionals, and thanks to the success of our alumni and their referrals, are growing rapidly.
---
---
Positions Available:
Dog Training Instructor, Toronto
Classroom Assistant (Volunteer), Vancouver & Toronto
---
Dog Training Instructor
Location: Toronto, Ontario
Are you an expert at clicker training? Perhaps you have graduated from organizations such as the Karen Pryor Academy, Pat Miller Academy, or Jean Donaldson's Academy for Dog Trainers?
Does the thought of getting on front of an audience to talk about your passion – clicker training – excite you? Do you have the ability to captivate an audience, entertain them, and motivate them to work hard?
If so, please read on!
We are looking for an experienced professional to join our team as a Dog Training Instructor.
What we offer:
Full-time, salaried employment with a Health and Wellness Spending Account and annual paid leave.
A career where you get to work with pet dog owners who are excited and eager to learn how to clicker train
The ability to focus on the teaching and coaching aspects of dog training (instead of having to worry about marketing, operations, and financial management)
A continuing education budget to attend seminars and workshops each year, such as ClickerExpo, or programs like the KPA Dog Trainer Professional certification
Company-wide weekly, monthly, and quarterly mentoring and skills development activities to increase your knowledge
A supportive environment where like-minded clicker trainers work together to create awesome experiences for our students
Responsibilities Include:
Teaching Puppy Socialization and Foundation Skills group classes out of our Dundas West, Pape Village, or Queen West locations
Delivering Private 1-on-1 lessons at our facility, at the client's homes (outdoors, not inside during the Covid-19 pandemic), or via webconference
Running New Student Orientations to introduce our newest clients to the principles behind clicker training
Responding to client inquiries via email and periodically phone in a timely manner
Mentoring and coaching our team of volunteers to help them enhance their skills
Identifying opportunities to enhance all aspects of our operations – teaching, curriculum, marketing, internal processes, and training techniques
Investing in continuing education by reading books, watching DVDs and webinars, and attending training conferences
Working service industry hours – We work weekday evenings and weekend mornings/afternoons.
All Candidates Should Have:
1-2 years experience working as a dog training instructor working with pet dog owners
3+ years experience clicker training their own dog(s)
Completed coursework, workshops, and seminars, with a heavy emphasis on clicker training
Post Secondary education consisting of a college diploma or degree
The ability to lift 50 lbs, or generally be strong, dexterous, and coordinated enough to restrain or time-out a large puppy during Puppy Socialization class playtime, or catch and hold a runaway Great Dane going to visit another dog in Foundation Skills class.
Ideal Candidates Have:
Certifications from the Karen Pryor Academy (KPA CTP), Pat Miller Academy, or Jean Donaldson's Academy for Dog Trainers
Testing certifications such as CDPT-KA
3+ years experience working as a dog training instructor, either self-employed or as an employee of a reputable force-free dog training company
Extensive experience presenting and teaching to groups and audiences
Practical and theoretical knowledge on behaviour modification for fear, anxiety, and aggression issues (Leash reactivity, Separation Anxiety, Resource Guarding, etc.) and have case study examples of successful outcomes with their own dogs, or clients' dogs
Have extensive CEUs from attending events such as ClickerExpo, APDT Annual Education Conference, etc.
Titled their own dogs in dog sports such as Agility, Rally Obedience, etc.
How to Apply
Please email careers@whenhoundsfly.com with the following:
Your resume
Indicate your preference for Full Time or Part Time work

If Part Time, please indicate your availability and # of hours per week you are interested in

Your salary or wage expectations
Your training portfolio (videos of you clicker training at your best)